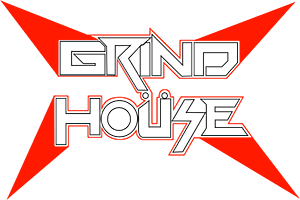 TRASMISSIONI YOUTUBE GRIND RADIO
Per rendere meno pesante la quarantena e tenervi compagnia in questa lunga fase di transizione (siamo chiusi dal primissimo DPCM del 23 febbraio), dalla durata ancora ignota ad oggi e dal futuro ancora più incerto, abbiamo deciso, a partire da mercoledì 8 aprile di tenervi compagnia ogni settimana alle 19 con un'ora di musica ben selezionata fra i generi che amiamo, con qualche nostro commento e intervento. Sono previsti anche speciali, i primi dei quali a Pasqua e Pasquetta…tenete d'occhio il sito per future comunicazioni!
Qui le scalette delle puntate tramesse finora. Tutti gli episodi (tranne il primo) saranno visibili sul canale YT preposto.
UPDATE 26/06/2020: Con la riapertura della attività prevista per sabato 27 giugno, sospendiamo l'attività della radio Youtube! Speriamo di avervi tenuto buona compagnia. Tutti gli episodi sono disponibili sul canale!
EP. 1: 08/04/2020 ORE 19. PUNK HC + EXTREME METAL + DUNGEON SYNTH EXTRAVAGANZA
Let the terror begin…
INTRO
Slapshot – Punk is dead you're next
Champion – Next Year
Pioggia Nera – Esseri di Nulla
Nerorgasmo – Tutto uguale
Get The Shot – Rotting Idols
Siberian Meat Grinder – Eternal Crusade
Chain of Strength – Best of times
Wasted Struggle – Wounded Servant
Ten Yard Fight – Holding On
Verso il metal
Eyehategod – Shinobi
Fourth Monarchy – Mistica Notte Di Uno Stilita
Celtic Frost – Jewel throne
Terrorizer – Fear of Napalm
Inchiuvatu – Inchiuvatu
Imago Mortis – Summa Regina Mortorum
Suffocation – Misconcieved
Extravaganza!
Tryumf – Anima Christi
Tryumf – Mt 28 19
Tryumf – De Profundis
Tryumf – Zeal's Sacrifice
La fine?
EP. 2: 12/04/2020 ORE 14. EASTER SPECIAL: AMBIENT
Sono stati trasmessi due dischi degli italianissimi Hekate, "Haunted soul of the wizard" e "Haunted soul of the witch".
PREPARE FOR THE DESCENT…
Intro
Haunted soul of the wizard
Hekate – The Wizard
Hekate – The Wound
Hekate – The Witch
Hekate – The Wood
Hekate – Outro
Hekate – Grey Heavens (Summoning Cover) – Bonus Track
Haunted soul of the witch
Hekate – Intro (The House)
Hekate – The One Who Ran Away
Hekate – Pain Of The Witch
Hekate – Forever Lost In Sleepy Forests
Hekate – Outro (The Path)
Hekate – Soul Wandering (Summoning Cover)
La fine?
EP. 3: 13/04/2020 ORE 14. EASTER SPECIAL #2: DOOM!
PREPARE FOR DOOM…
Intro
Cathedral – Black Sunday
Black Sabbath – Hand of Doom
1000mods – Super Van Vacation
Sleep – Holy Mountain
Clutch – Emily Dickinson
Witch – Seer
Electric Wizard – Saturnine
Messa – Leah
La fine?
EP. 4: 15/04/2020 ORE 19. NEW WAVE + EBM + NIPPON ANIME EXTRAVAGANZA
Let the terror begin…
Intro
Lato A: New Wave
And One – Memories
Project Pitchfork – Timekiller (And One Remix)
Chrom – The Start Of Something New
Mind.in.a.Box – Stalkers
In My Rosary – Satin Sheets
Stereo – Somewhere in the Night
Lato B: EBM
Rotersand – Merging Oceans (Original)
Funker Vogt – Ikarus
Asphyxia – Painful Process
Grendel – End of Ages
Synapsyche – Hate and Psyche
Faderhead – Generation Black
Dolls of Pain – Sweet Android
Ghost Track: Extravaganza!
Genocyber – Fairy Dreamin'
Gunbuster – Aim to the Top Fly High
La fine?
EP. 5: 22/04/2020 ORE 19. NEW ROCK + NEW METAL (CLASSIC) + GOTHIC COUNTRY EXTRAVAGANZA
Let the terror begin…
Intro
ROCK PARTY
The Ultraviolets – Now I Know
The Hellacopters – Crimson Ballroom
Turbonegro – High on the Crime
Hardcore Superstar – Liberation
Danko Jones – You Are My Woman
D.A.D. – Sleeping My Day Away
Buckcherry – Gluttony
Cowboy Prostitutes – Make A Name For Yourself
Afterhours – Veleno
METAL PARTY
Fozzy – Judas
Royal Hunt – One By One
Black Stone Cherry
Unearth – Zombie Autopilot
Slipknot – Left Behind
Mushroomhead – Sun Doesn' t Rise
Theory of a Deadman – Bad Girlfriend
Black Label Society – Counterfeit God
Extravaganza! Gothic Country
The Coffinshakers – Necromancy
Ghoultown – Life After Sundown
La fine?
EP. 6: 29/04/2020 ORE 19. SPECIALE PROG METAL: SHADOW GALLERY S/T ALBUM (1992)
Let the terror begin…
Intro
Shadow Gallery – The Dance of Fools
Shadow Gallery – Darktown
Shadow Gallery – Mystified
Shadow Gallery – Questions at Hand
Shadow Gallery – The Final Hour
Shadow Gallery – Say Goodbye to the Morning
Shadow Gallery – The Queen of the City of Ice
La fine?
EP. 7: 06/05/2020 ORE 19. SYNTHWAVE/RETROWAVE + GLAM + VAPORWAVE EXTRAVAGANZA
Let the terror begin…
Intro
Synthwave/Retrowave
Pylot – A Race Against Time
Vulta – Crepuscule
GoST – Reign in Hell (Extended)
Carpenter Brut – Anarchy Road
Microchip Terror – Targeted for Termination
Niky Nine – Road
Ex Machina – Silencer (no remorse no regret)
Glam Attacks!
Demolition 23 – Nothin's Alright
Michael Monroe – Life' s a Bitch and then you live
Crashdiet – Queen Obscene
Vains of Jenna – Get on the Ride (Long Gone With a Smile)
69 Eyes – Tang
Adler's Appetite – Suicide
Machinegun Kelly – White Line Offside
The Hangmen – Desperation Town
Extravaganza! Vaporwave
Vaporgrave – Jikai
Vaporgrave – Suraisu
EP.8: 13/05/2020 ORE 19. MARIO TIO SPECIAL! METAL ATTACK!!
Per questo episodio presentiamo una playlist con introduzione del nostro metallarissimo Mario Tio, che ci ha tenuto compagnia tante serate in questi anni! Potete seguirla qui.
Presentazione Playlist Grind by Mario Tio
Skarlett Riot – Human
Testament – Children of the Next Level
Lamb of God – Memento Mori
Lindemann – Steh Auf
Electric Mob – Devil You Know
Trivium – Catastrophist
Fozzy – Nowhere to Run
Ozzy Osbourne – Ordinary Man
Sons of Apollo – Goodbye Divinity
Firewind – Rising Fire
EP.9: 20/05/2020 ORE 19. PUNK OI + HC + HC MADE IN JAPAN SPECIAL
Let the terror begin…
Intro
Sham 69 – Hurry Up Harry
Slaughter and the Dogs – Quick Joey Small
NoWhiteRag – It's Going To Rain
Erode – Frana La Curva
Bronson – Roma Tiger Punk
Bomber80 – Cruda E Vera
Banda Del Rione – Lei
Bull Brigade – Vendetta
Dropkick Murphys – The Warrior's Code
Atestabassa – Lo Schiaffo Dei Giorni
Congegno – Troppo Distante
Agnostic Front – The Eliminator
Attrito – Queste Voci
Raised Fist – Stronger Than Ever
Hour of the Wolf – Wild Man
Extravaganza Punk JP
The Zolge – Damage Your Generation
Balzac – Wall
La fine?
EP.10:  27/05/2020 ORE 19. NEW WAVE + EBM + DARK AMBIENT EXTRAVAGANZA
Let the terror begin…
Intro
Side A: Summer New Wave
Dusk to Dawn – Far Places
Camouflage – The Great Commandment (Extended Dance Mix)
Holygram – Daria
Mr.Kitty – Puzzle Heart Feat. Chuyinmiku
Buzz Kull – Into The Void
Assemblage 23 – Document
Ashbury Heights – Masque
Seelennacht – Back To Life
Side B: EBM Night Party
Athamay – Eternal Torture
Die Form – Poupee Mecanique
Wumpscut – Soylent Green (Extended)
Nachtmahr – Tanzdiktator
SynthAttack – The Beauty of Violence (Alien Vampires RMX)
Velvet Acid Christ – Decypher (Forensics Edit)
Extravaganza! Dark Ambient
Robert Rich – Geometry Of The Skies
La fine?
EP.11 : 03/06/2020 ORE 19. SUMMER TRASH MADNESS
Let the terror begin…
Intro
Backstreet Boys – Everybody (Backstreet's Back)
Daft Punk – Around The World
Pet Shop Boys – New York City Boy
Britney Spears – Oops I Did It Again
Scissor Sisters – I Don't Feel Like Dancin
Boney M – Daddy Cool
Bruno Mars – Uptown funk
Gunther – Tutti Frutti Summer Love
Prezioso feat Marvin – Le Louvre
Eiffel 65 – Blue Da Ba Dee (Ice Pop Mix)
Snap! – Rhythm Is A Dancer
Darude – Sandstorm
Gigi D'Agostino – Bla Bla Bla
Corona – Baby Baby Lee Marrow Extended Mix
Aqua – Doctor Jones
Spai & John feat Alex Teddy – Cassa Dritta Supermarket Edit
Savage Garden – I Want You
La fine?
EP.12: 10/06/2020 ORE 19. POP PUNK PARTY
Let the terror begin…
Intro
The Academy Is… – About A Girl
Blink-182 – What's My Age Again
Zebrahead – The Hell That Is My Life
Busted – What I Go To School For
Fountains Of Wayne – Stacy's Mom
Millencolin – Farewell My Hell
Alien Ant Farm – Smooth Criminal
Andrew W.K. – Party Hard
The Donnas – Take It Off
Hole – Celebrity Skin
Scatter the Ashes – From The Top Of The Trees
Generation X – Dancing With Myself
Bad Religion – The Answer
Down By Law – Best Friends
The Offspring – Mission From God
Matchbook Romance – Lovers Liars
Anti-Flag – The School Of Assasins
The Soviettes – IParanoia! Cha-Cha-Cha
Strike Anywhere – To The World
Pennywise – God Save The USA
La fine?
EP.13: 17/06/2020 ORE 19. NOISE FROM HELL
Let the terror begin…
Intro
Satanismo Calibro 9 – Supernova
Satanismo Calibro 9 – Inquietudine
Teatro Satanico – Kali Yuga A Go-Go
Teatro Satanico – Virginia
Teatro Satanico – Void
Mater Suspiria Vision – Book Of Eibon
White Ring – Do U Love Me 2
La fine?
EP.14: 24/06/2020 ORE 19. SUMMER VAPORWAVE/FUTURE FUNK+EXTRAVAGANZA RETRO RPG WAVE
Let the terror begin…
Intro
Summer Vaporwave Star
SAINT PEPSI – Strawberry Lemonade (VentureX Rework)
Amherst – True
Dante Mars Ajeto!- Olympic Nights
MACROSS 82-99 – Pocari Lipps
Cape Coral – RITMO. Feat. Android – Apartment
Agrume – Feel What I Feel
. Android Apartment – Lovers Are Movie Stars
Desired – All I Need
Night Tempo – Plastic Love
VHS Dreams – Bodywork
DEATHKID. – LINDA BLAIR
Astrophysics – A Cruel Angels Thesis (Synthwave Remix)
Retro RPG Nostalgic Extravaganza
Kannibal – Chrono's Theme
Lzls – Prelude
Lzls – Coin
Lzls – Friends
La fine?