NEWS 01 Aprile 2020: Evento annullato in seguito all'ordine di stop fino a lunedì 13 aprile voluto dalla Regione causa Coronavirus. Qui il post.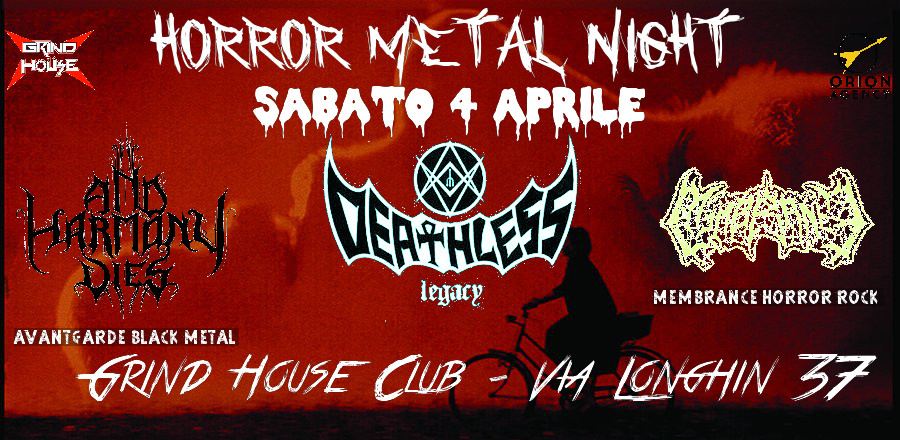 Horror Metal Night Deathless Legacy, And Harmony Dies, Membrance
Sabato 4 Aprile
@ Grind House Club
Altro episodio tematico di Padova Estrema dedicato all'HORROR
presentato qui in diverse sfaccettature
Si esibiranno per noi:
Deathless Legacy – Saturnalia 2020 Tour (horror rock)
Saturnalia, quinto album in carriera della band toscana Deathless Legacy, è una suite musicale ambientata nell'Antica Roma, che ripercorre il cammino dello schiavo Lucius. Una vera e propria rock opera che la band porterà dal vivo assieme ai brani più emblematici degli album precedenti, per uno spettacolo immersivo e intriso di occulto.
Membrance  (horror death metal)
Per la prima volta al Grind House, sbarcano i Death Metaller veneziani gruppo di punta della Orion Agency preparatevi a uno show sanguinolento e tremendamente coinvolgente.
And Harmony Dies  (Advantgarde Black Metal)
Nuovamente sul nostro palco, questa volta di sabato, la storica band veneta che propone un Advangarde Black Metal in uno spettacolo davvero unico nel suo genere.
DJ SET IN AFTERSHOW BY Mario Tio Tiozzo

INGRESSO 10 EURO
You Need Tessera AICS
Evento FB: