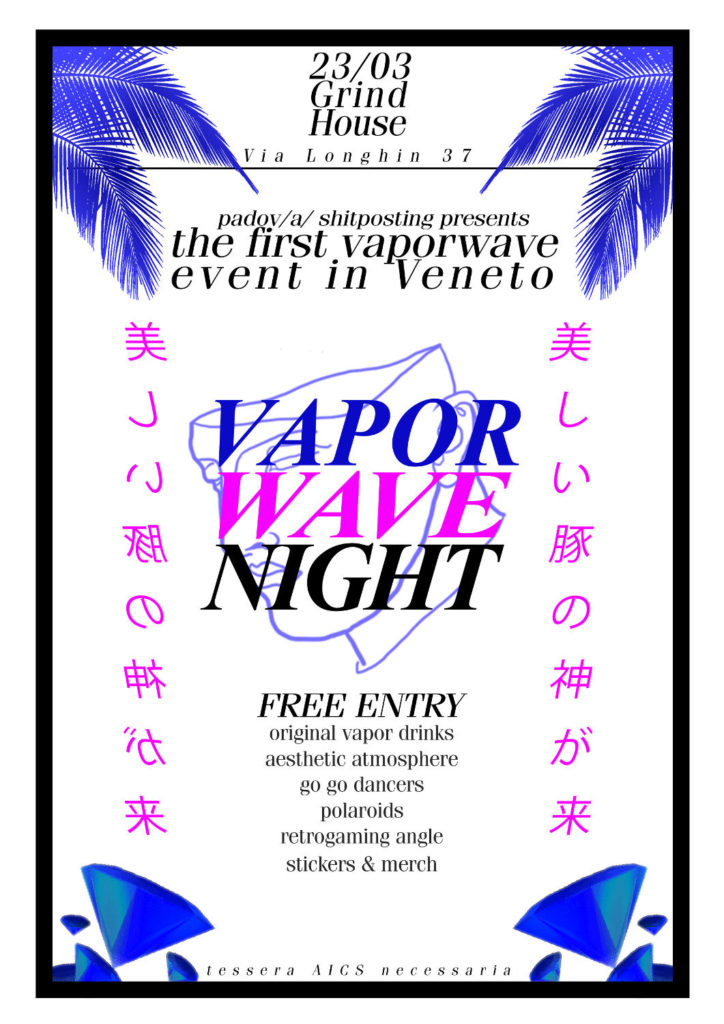 VENERDI' 23 MARZO PADOVA VAPORWAVE NIGHT
Padova Shitposting is proud to present
●●● the very first vaporwave event in Veneto ●●●
when
venerdì 23 marzo
where
GRINDHOUSE club @ via Longhin 37
why
for the glory of Satan, of course!
featuring:
➫ drinks originali vaporwave
➫ aesthetic atmosphere
➫ angolo retrogaming
➫ polaroids
➫ go go dancers
➫ stickers & merchandise esclusivo
Music&Mixing by Ausländer & Robb Stark
Party starting at 22:45
Speciale omaggio per chi sarà vestito a tema
✜ FREE ENTRY 1 DRINK INCLUSO ✜
Necessaria tessera AICS, ritirabile al costo di €7 in loco
Ingresso riservato ai maggiori di 18 anni
INFO
Leonardo 3348806641
Riccardo 3454207760
www.facebook.com/padovashitposting/
___________________________
La vaporwave è un genere musicale, nonché corrente estetica, nata intorno al
2010, proveniente da alcuni sottogeneri della musica dance indipendente, come
chillwave, bounce house e seapunk. Il genere è stato interpretato come una
critica e una parodia della società consumistica, della cultura anni ottanta e
novanta e della musica new age mentre, al contempo, conserva un senso di
fascino e nostalgia verso l'estetica (soprattutto digitale, ma anche rispetto
le pubblicità) di quegli anni.
Evento FB: