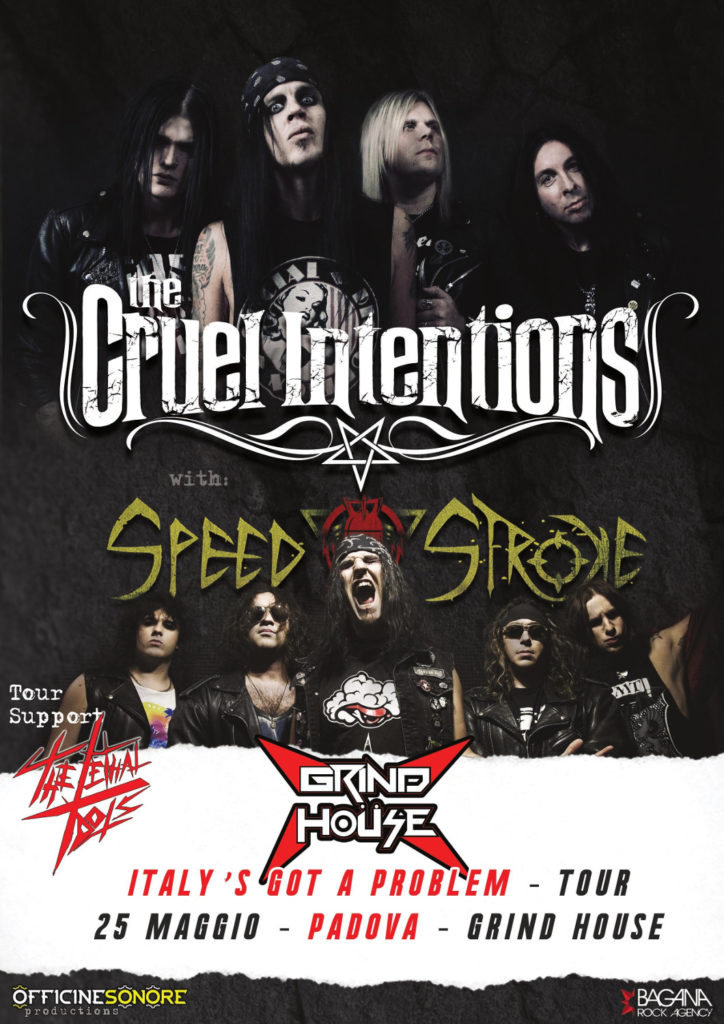 Venerdì 25 Maggio
The Cruel Intentions ★ Speed Stroke ★ Lethal Idols
Cosa c'è di meglio di una band Incredibile? TRE band incredibili!
Venerdì 25 Maggio passa dal Grind House Club lo show Rock and Roll itinerante formato da tre band che non hanno bisogno di troppi convenevoli.
Che solo pronunciarne il nome assicura una vacanza ad Azkaban.
Che tramutano il termine "all killers no fillers" in un eufemismo.
CHE LEVATI.
Ladies and Gentlemen siamo più che orgogliosi di avvertivi del fatto che l'Italia ha un problema (cit).
The Cruel Intentions  una band che al primo singolo si è subito affermata sul panorama Sleaze mondiale. Un album in preparazione ed un repertorio di video fenomenali. Dal cantante dei Vains of Jenna non ci aspettavamo nient'altro. Musicisti over the top per un esperienza Live da brivido.
Speed Stroke  quando si parla di eccellenza spunta subito un nome: Richard Benson. Il secondo è quello degli Speed Stroke. Due album all'attivo ed un terzo in produzione, la personificazione del been there done that, hanno suonato con tutti i maggiori artisti della scena. Incredibili su disco ed sconvolgenti dal vivo, non potevano non essere protagonisti di questo RnR Circus.
The Lethal Idols  giovani ma non privi di esperienza, un Ep all'attivo ed un video di puro piacere visivo, sensazione del nord italia, mangiano metri di palco come Adinolfi ad un all you can eat.
Con una squadra del genere è impossibile mancare.
More Info TBA
Evento FB: