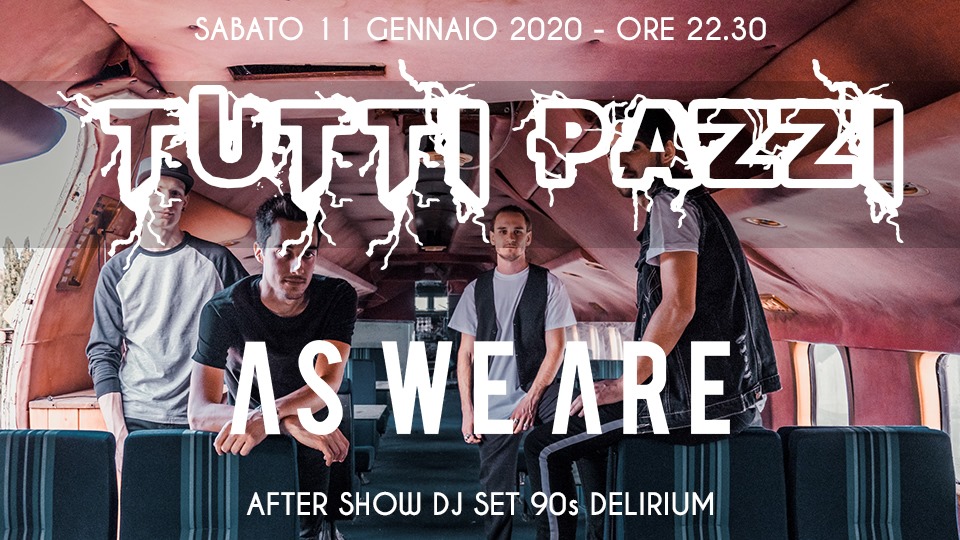 SABATO 11 GENNAIO 2020
TUTTI PAZZI #1
As We Are
Release Party
After show Dj set 90s Delirium
@ Grind House Club
Anno nuovo, vita nuova!?
Con il nuovo anno inauguriamo un nuovo format che ci accompagnerà fino a fine stagione.
TUTTI PAZZI sarà un contenitore di moltissime cose tra cui molto rock e punk, rigorosamente dagli anni 90 in poi e anche con una anima trash ultra scorretta ma sempre divertente.
Esordiamo a gennaio con un evento fiQissimo!
Arrivano sul palco del Grind House Club gli As We Are  ovvero la realtà pop punk più elettrizzante dell'intero nord est.
Se, come alcuni di noi, sei cresciuto con Sum 41, Green Day, Blink 182 e compagnia, con gli As We Are vai a colpo sicuro.
Inoltre fanno pure il release party!!
After show dj set:
90s DELIRIUM PARTY
dopo il live resta a ballare fino a mattina con tutto quello che gli anni 90s (ed un po' anche di anni zero) ci hanno regalato.
SOUNDS LIKE:
Nirvana – Sound Garden – RATM – Green Day – Offspring – Sum 41 – Korn – Eagles of Death Metal – M. Manson – Rammstein – Hatebreed – Rancid – Pearl Jam – Limp Bizkit and many more.
gogo dancers:
Unpleasant Ambra – Eleonora Lunakya Morabito
ingresso euro 5
you need tessera AICS
Evento FB: