Inizia ottobre, amici Grinders, e con lui il nostro amato Grind House riprende ad aprire anche i venerdì…e svelare, gradualmente, le novità di stagione. 🙂

Padova Dub Club #1 – Venerdì 5 Ottobre
La prima di esse, è il nuovo format dedicato alla dub (annunciato a metà settembre), in collaborazione con gli amici di DubHole, che porteranno da noi il loro sound system.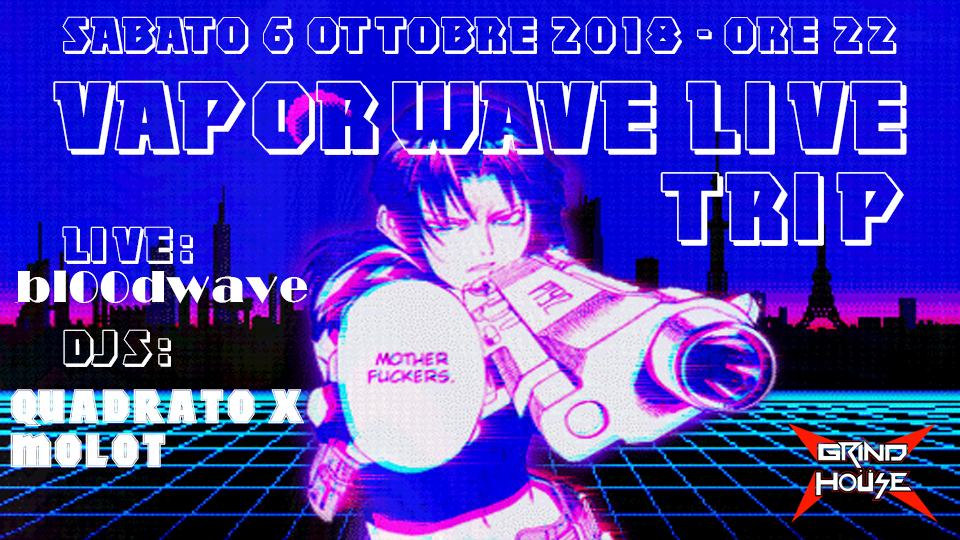 Vaporwave Live Trip: QuadratoX ☒ + Bl00dwave – Sabato 6 Ottobre
Prosegue il viaggio nel mondo vaporwave con il primo live al nord italia di uno degli artisti più rappresentativi della scena, Bl00dwave, accompagnato dal fido amico e protagonista del mondo vapor lui stesso, QuadratoX ☒. Ricordiamo che la serata inizierà alle 22 e non alle 23, come di norma.
Appuntamenti sucessivi:
PADOVA ESTREMA. HERE COME THE FREAKS: AND HARMONY DIES+DAMNATION GALLERY+HARKANE+MILL OF STONE – VENERDI' 12 OTTOBRE Una serata all'insegna del metal estremo, con una selezione di gruppi di avantgarde black metal, death metal, thrash metal che proporranno uno spettacolo unico e molto singolare, dalle forti venature horror.
DAS LUST: SHELLY D'INFERNO – SABATO 13 OTTOBRE Una delle grandi protagoniste del mondo delle perfomance alternative, Shelly d'Inferno (alt model, stilista, performer e molto altro) delle Pyrohex, sarà da noi per il primo Das Lust di stagione. Impossibile mancare!