Eccoci qui, pronti all'azione! Una settimana molto movimentata, quella che si prospetta 🙂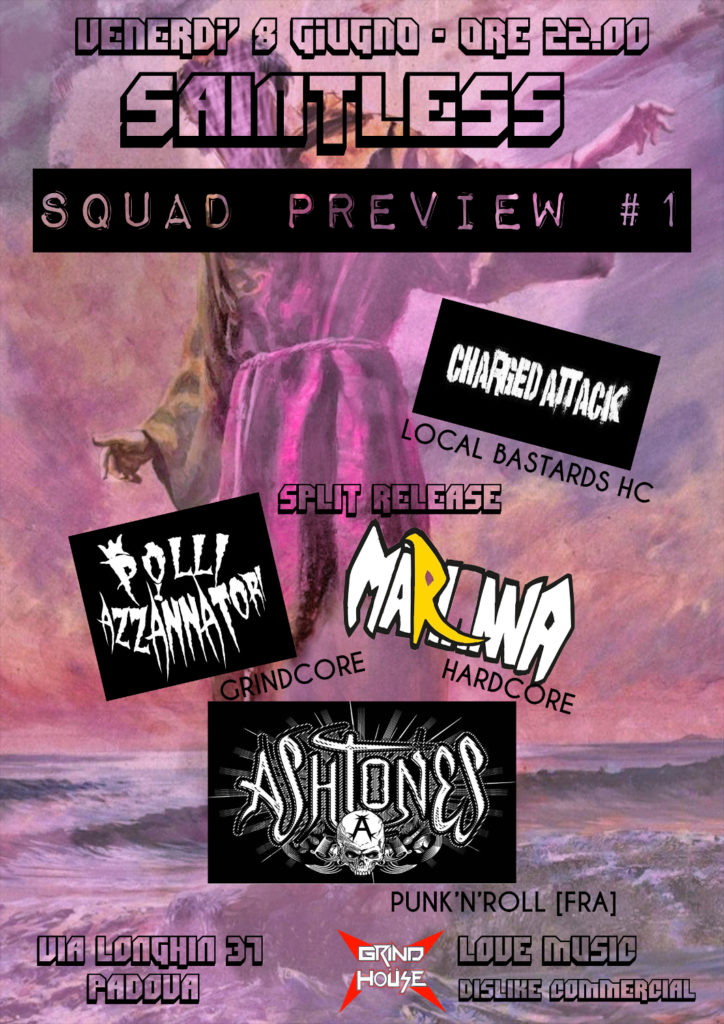 Saintless Squad Preview:  Ashtones + Polli Azzannatori + Marianna + Charged Attack – Venerdì 8 giugno
Una piccola preview del nuovo collettivo Saintless nato da noi…HC a tutto spiano, principi i francesi Ashtones, fautori di un punk n roll bello carico, accompagnato dalla violenza sonora dei locali Charged Attack, Marianna e Polli Azzannatori. Questi ultimi due presenteranno anche il loro recente split. Che il massacro abbia inizio.
Das Lust Metallo Industriale II: The Silverblack Live – Sabato 9 Giugno
Un Das Lust all'insegna dell'industrial metal con uno dei gruppi più promettenti italiani, i Silverblack, che uniscono agevolmente industrial ed elettronica estrema. In più avremo uno stand della Little Devil's Creation, piccola casa di harness artigianali alla cui corte si servono anche nomi come Dani Divine.
Appuntamenti sucessivi:
LEVITICA: WAITING FOR THE POOL – VENERDI' 22 GIUGNO. Party kinky colorato d'estate. 🙂
VAPORWAVE LIVE TRIP: TASSONY + QUADRATOX LIVE – SABATO 23 GIUGNO. Dopo il grande successo della prima serata vapor in Veneto, due grandi nomi italiani del genere al Grind House.