Ciao ragazzi, il gran giorno è arrivato! Stanno per sbarcare da noi loro…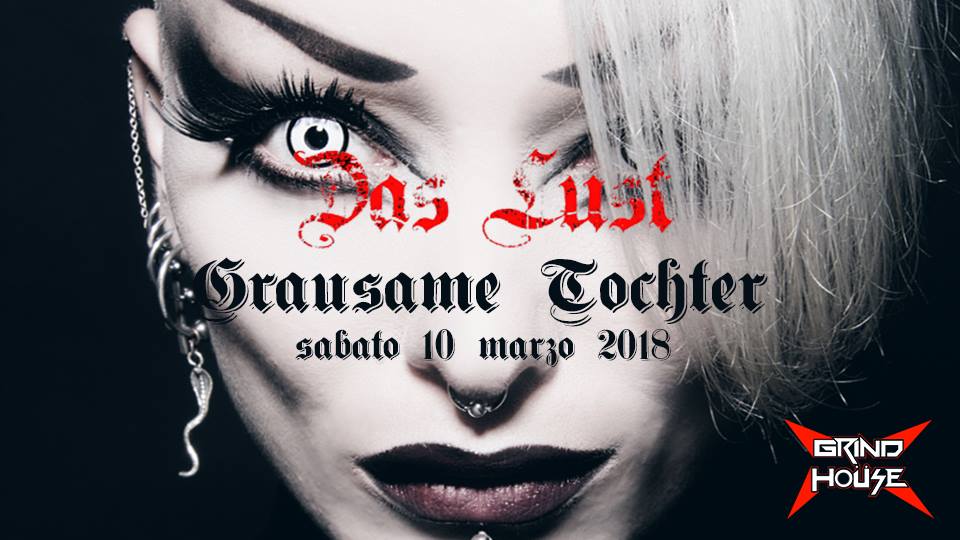 Das Lust: Grausame Tochter Live
Le grandiose Grausame Tochter…per l'unica data italiana del loro tour. Che dire, un vero peccato farsele scappare.
A brevissimo, annuncieremo due novità importanti che sarà bene non mancare…la prima arriverà fra pochi minuti sul sito, per la seconda dovrete aspettare qualche giorno ma non ne sarete delusi. 🙂
Nel frattempo…
Appuntamenti successivi:
OUT OF STEP: KILL YOUR BOYFRIEND – VENERDI' 16 MARZO. Parte con marzo il nuovo format del Grind Out of Step, dedicato alle sonorità più interessanti del mondo del cosidetto "indie". Oggi il termine ha la connotazione di un calderone indistinto, ma noi nel nostro stile rigoroso e da amanti dell'underground, ci occupiamo di proporvi solo ciò che riteniamo il meglio e più interessante! Il tutto in linea con la nostra filosofia. Per il primo appuntamento, avremmo i Kill Your Boyfriend.
ROCK N ROLL NIGHT: RAGING DEAD – SABATO 17 MARZO. Serata rock n roll del mese, con i Raging Dead, Horror Punk indemoniato!
SUNDAY HARDCORE CONVENTION: GREAT DIVIDE + CHARITY + BRIGHT END – DOMENICA 18 MARZO. Nuovo appuntamento con l'Hardcore, di domenica. Tre band spaccaossa, per una grande serata!
SIRENS METAL NIGHT: FALLCIE + MODERN AGE STORYTELLERS – SABATO 24 MARZO. Dalla Russia con furore! Due gruppi metal female-fronted cazzuti e carrozzati.