Amici, finalmente il nostro festival sta per avere luogo! Dopo molte anticipazioni, siamo felici di presentare:
VENERDI' 20 APRILE – RNR PRIDE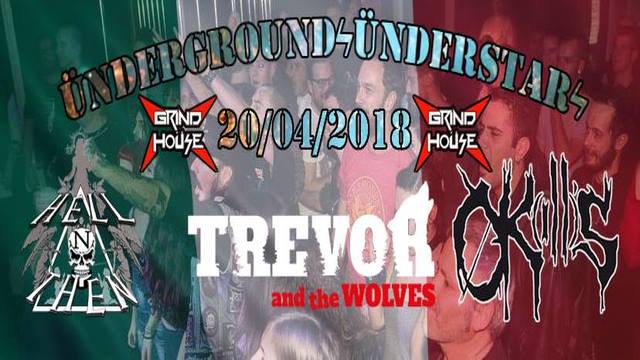 APERTURA PORTA: ORE 21.00
INIZIO LIVE: ORE 21.30
HELL N THEN ORE 21.30 – 22.15
come opening act direttamente dalla più bella città del mondo, ovvero Venezia, arrivano 4 ragazzacci che da poco si sono uniti per fare del ruvido rock'n'roll e divertirsi.
0KILL'S ORE 22.30 – 23.30
Debutto assoluto per questa nuovissima band formata da membri di Death SS e Scarlet & The Spooky Spiders. L' Album d'esordio sarà fuori il 18 aprile e ovviamente il Release party sarà al nostro festival.
Atmosfere ovviamente fascinose ed oscure ma con un piglio moderno ed accattivante.
TREVOR AND THE WOLVES ORE 23.45 – 01.15
Nuovo progetto del cantante degli storici Sadist connotato da una forte matrice hard rock di stampo ruvido e genuino, dai contenuti rurali e pregni di riferimenti naturalistici, a lui da sempre tanto cari.
All'album di debutto del 2017 hanno voluto partecipare svariati ospiti illustri, provenienti da band illustri come Elio e le Storie Tese e i WInterage. Il sound della band che può essere avvicinato a mostri sacri quali AC/DC, Motorhead, Black Sabbath, Saxon, Alice Cooper o Pantera.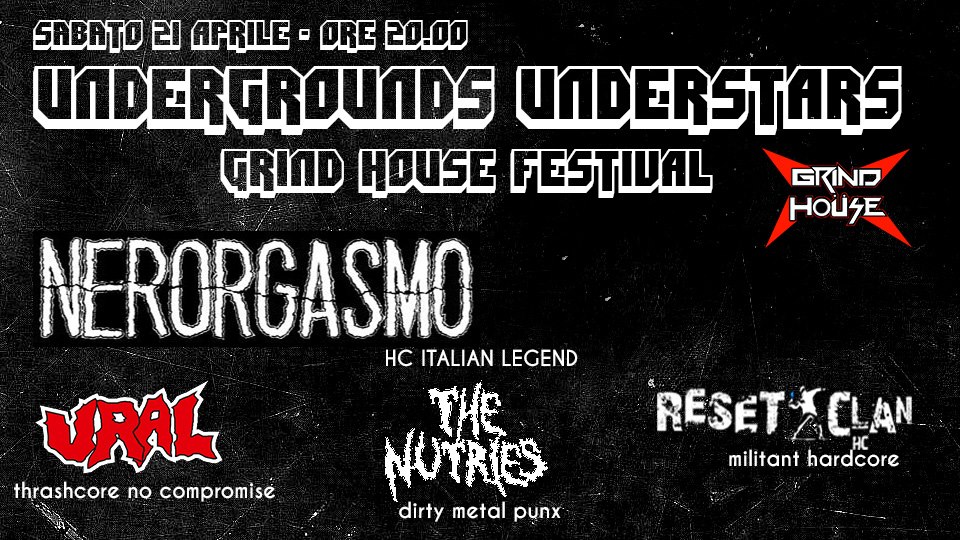 APERTURA PORTA: ORE 20.00
INIZIO LIVE: ORE 20.45
URAL 20.45 – 21.20
Crossover Thrash Metal per gli amanti di Nuclear Assault, Anthrax, Municipal Waste, Suicidal Tendencies, Voivod…formati nel 2010 a Torino con furore.
THE NUTRIES 21.30 – 22.10
Band punk/hardcore di Vicenza attiva dal 2008, fatta di ritmiche feroci e ben cadenzate, humor nero e amore (e difesa) per gli emarginati, quella fetta d'umanità dolente dimenticata e lasciata fuori dallo sguardo. Molti live alle spalle e una manciata di EP e split registrati.
RESET CLAN 22.20 – 23.00
Gruppo veronese formato da "cinque ragazzi stanchi della continua e monotona vita sociale e lavorativa" di Militant HC, con testi ricchi di rabbia e passione contro gli abusi e storture sociali. Sempre nelle loro stesse parole "disperazione e consapevolezza". Alle loro spalle, una manciata di demo, EP, split e tre full length di tutto rispetto, precisi e potenti.
NERORGASMO 23.15 – 00.20
Servono presentazioni? La leggenda.
Appuntamenti sucessivi:
HARDCORE NIGHT – VENERDI' 27 APRILE. La valanga HC non si ferma! La settimana dopo i leggendari Nerorgasmo, quattro band schiacciasassi di cui due dall'Ungheria.
LEVITICA & PDSM: PADOVA PRIDE K – SABATO 28 APRILE. Il kinky party per eccellenza si espande.