Whew..! Che settimana impegnativa. Vi abbiamo fatto compagnia ben cinque giorni su sette (contando anche oggi, con lo speed date alternativo, non mancate!) con eventi sempre diversi. Cabaret, incontri culturali (a proposito, fra non molto verrà caricato l'audio dell'incontro, che ha visto Umberto Curi diventare un fan ed endorser del nostro piccolo club… 🙂 ), street hip-hop, black metal e, appunto, speed date.
Questa settimana quindi, rallentiamo un po' il ritmo e apriremo solo sabato 1, per un evento in collaborazione con Anteros, associazione LBGTI di Padova, con la quarta edizione del Love & Safety Party, che quest'anno si terrà da noi, per una serata di balli e divertimenti all'insegna dell'inclusione e del confronto.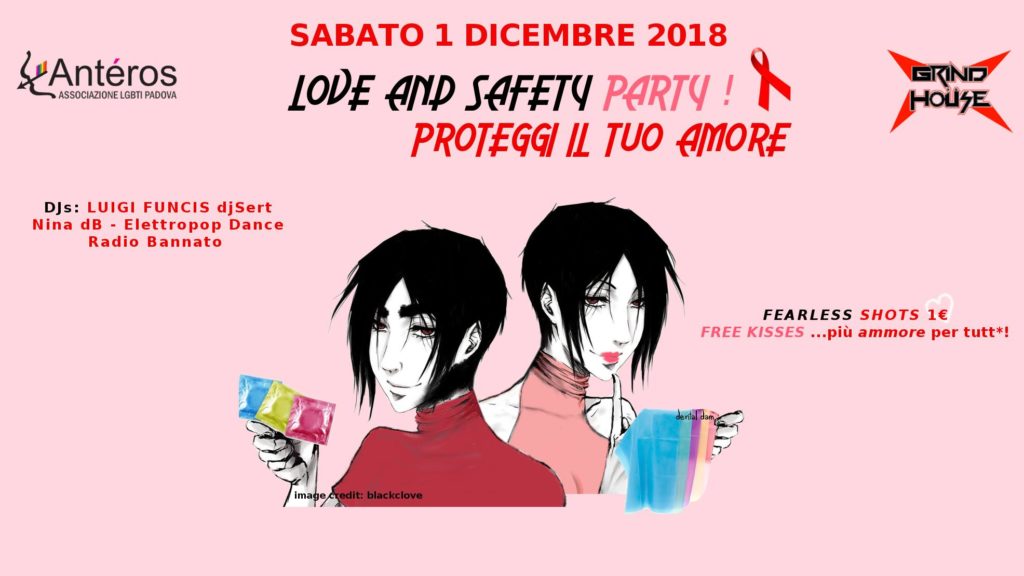 Love & Safety Party! – Sabato 1 dicembre
Prossimi appuntamenti:
PERPETUAL FATE RELEASE PARTY – VENERDI' 7 DICEMBRE. Release party per i Perpetual Fate, female fronted metal band, con i Winterbreed e altri ospiti per una serata all'insegna del metal classico e potente.
DAS LUST: DANI DIVINE – SABATO 8 DICEMBRE.Dopo la leggendaria Shelly d'Inferno avremo da noi Dani Divine, iconica modella e performer alternativa che porterà il suo show a tema military.
CULTURAL LANDSCAPES.ROMANO MADERA PRESENTA: SCONFITTA E UTOPIA. MARX, NIETZSCHE, JUNG. ORIENTAMENTO E PRATICA FILOSOFICA NEL MONDO CONTEMPORANEO. – MERCOLEDÌ 12 DICEMBRE ORE 17:45. Secondo incontro culturale di stagione, con un nome storico della filosofia e della filosofia analitica italiana, per andare alle radici delle contraddizioni contemporanee.
ROCK N ROLL ALL STARS: THE LAST BAND – SABATO 15 DICEMBRE.Secondo appuntamento con il rock di stagione con gli svedesi The Last Band, interessante gruppo che unisce metal core e sonorità più classiche e glam.