Il cammino di maggio verso l'estate prosegue, così come i nostri eventi. Vediamo un po' cosa ci attende 🙂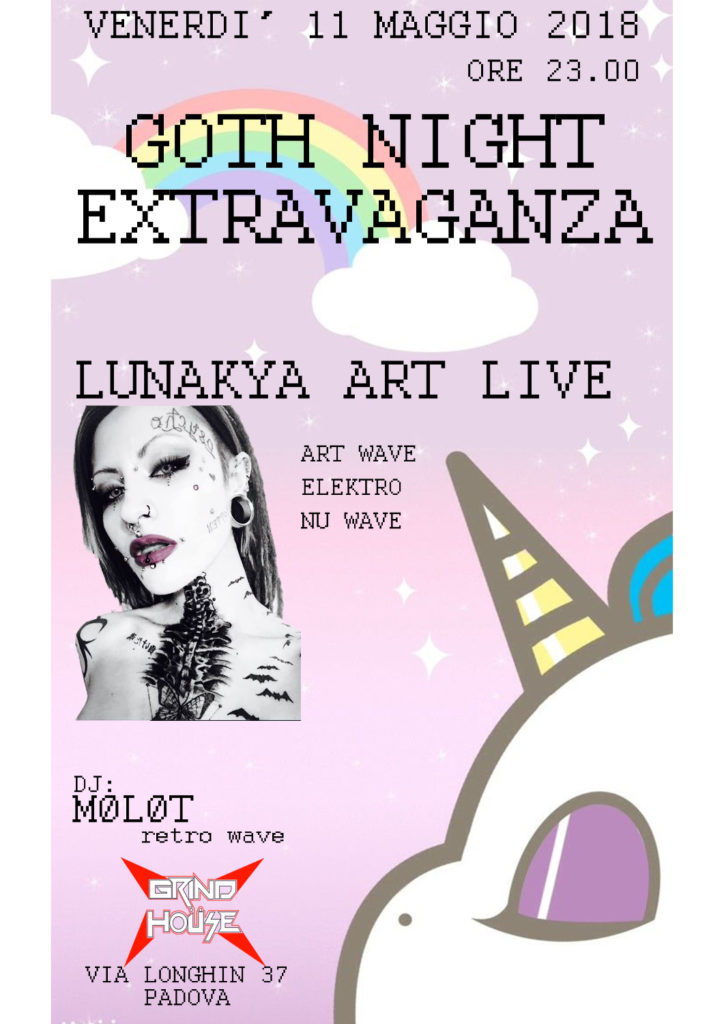 Goth Nigth Extravaganza: Lunakya live – Venerdì 11 Maggio
Torna sul nostro palco una nostra vecchia e amatissima conoscenza, Lunakya, che ci ha fatto compagnia per molto tempo qui al Grind. Porta il suo progetto visivo e sonoro mattissimo e dissociato, sicuramente originale ed unico.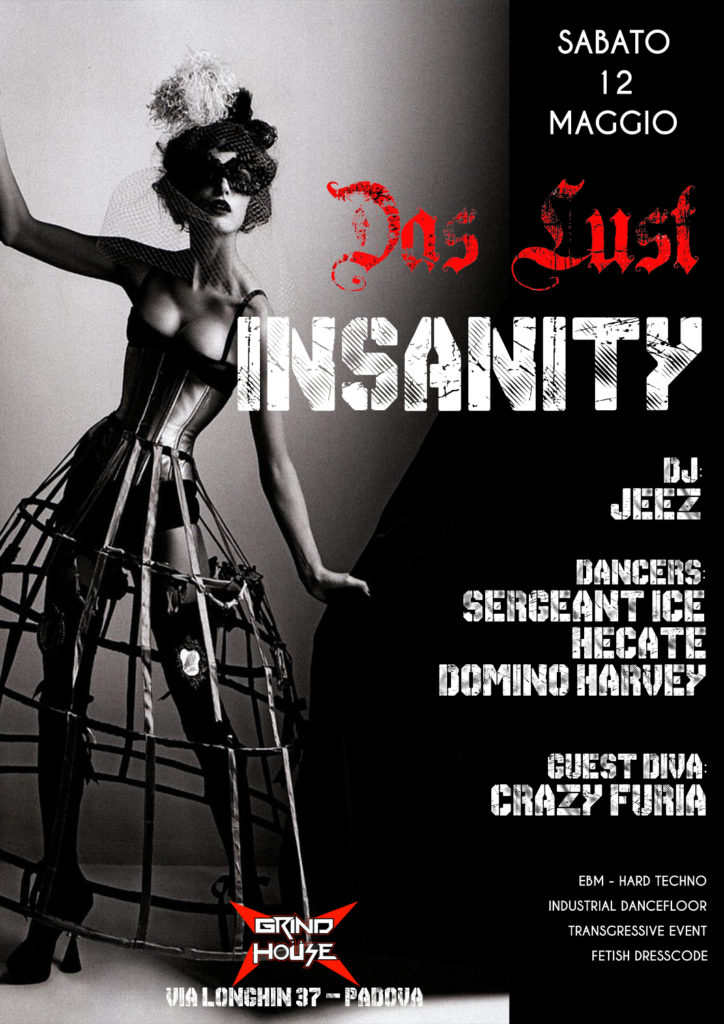 Das Lust: Insanity – Sabato 12 Maggio
Das Lust per maggio torna alle sue origini, quando ospitava performer e body artist calati nelle sonorità elettro/EBM che tanto amiamo. Ospiti la performer Crazy Diva, nota per il suo lavoro con il cerchio aereo ed altro, ed una guest DJ a sorpresa. 🙂
Prossimi appuntamenti:
OUT OF STEP FESTIVAL: VENUS IN FURS + VAN GOGH SEASON LIVE – VENERDI' 18 MAGGIO. Primo dei due giorni dedicati alle sonorità indie, con un nome d'eccezione: i Venus in Furs, veterani della scena,e portatori di un sound grintoso e ironico, fra cantautorato e art rock. In apertura, i Van Gogh Season, gruppo padovano emergente sulla scia dei Mogway.
OUT OF STEP FESTIVAL: FANCY VICES + HOPE AT THE BUS STOP LIVE – SABATO 19 MAGGIO. Secondo giorno del festivalino indie, abbiamo ospiti due gruppi padovani: Brit rock (Fancy Vices) e alt pop (Hope at the Bus Stop) di classe, che ci auguriamo non mancherete d'apprezzare. 🙂
CULTURAL LANDSCAPES: MARCELLO GHILARDI PRESENTA FORME E SENSO DELL'ESTETICA GIAPPONESE. BI NO NAZO. – GIOVEDI' 24 MAGGIO. Appuntamento con la cultura al Grind, questa volta parleremo del senso e contenuto dell'estetica giapponese con Marcello Ghilardi, autore e artista lui stesso.
ROCK N ROLL ALL STARS: CRUEL INTENTIONS + SPEED STROKE + LETHAL IDOLS – VENERDI' 25 MAGGIO. Ricordate i Vains of Jenna? Il nuovo gruppo del leggendario cantante, Lizzy DeVine, si esibirà da noi, accompagnato da due band al fulmicotone made in italy.
LEVITICA: PADOVA PRIDE K. – #MAIPIÙSENZA – SABATO 26 MAGGIO. Un Levitica particolare, nel segno della diversità e tolleranza.